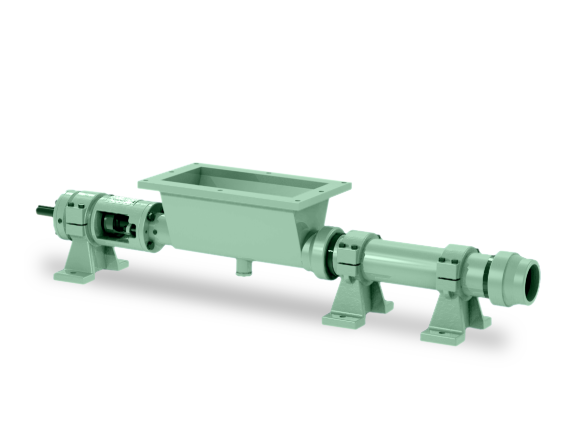 The CJ Series pump is constructed with two separate pumping elements—the open hopper with auger and the rotor with stator. The hopper permits gentle, full flow into the pump's suction housing. An auger then carries the materials to the rotor-stator pumping elements. The instant the pump is started, the pumping action begins. The pumping action is created by the single helical rotor rolling unevenly in the double-threaded helix of the stator. As the rotor turns within the stator, cavities are formed with progress toward the discharge end of the pump, carrying the material being handled. While one cavity diminishes, the opposing cavity increases at exactly the same rate. Pressure is independent of speed; capacity is approximately proportional to speed. This keeps the sum of the two discharges at a constant volume. The result is a pulsation free, positive displacement flow with no valves.
Custom options available for the CJ Model are, but not limited to:
Teflon packing is our standard but can upgrade to graphite packing or component seal
Hydraulic motors can be installed on all CJ pumps except for CJ10 & CJ12 models. Hydraulic kits are available for purchase.
We offer replacement pumps and parts to popular Progressive Cavity brands.
Need a complete unit on an inline base, a v-belt base or as a hydraulic unit? Contact us.
Continental CJ Model Progressive Cavity Pumps are ideal in handling of many materials such as putties and pastes, calcium carbonate sludge, ground meat emulsions, packing house offal, magmas, paper pulp, spent grain, black paste, heavy grease, grout, lightweight, gypsum roof decking, as well as many other substances. Mixtures containing high percentages of solids or abrasives are also handled with ease. These are the most common types of applications that are being successfully and economically performed by these amazingly versatile pumps.